"Smiling Jack" Greedy (1929 - 1988)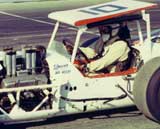 Jack Greedy started racing in 1954 in the jalopy division at Pinecrest Speedway where he was named "Rookie of the Year". He progressed to Super Modified racing at the C.N.E where he was the track champion in 1962, their final year. He also ran consistently at Delaware, Nilestown, and Flamboro Speedways where he was many times the Track Champion and was named "SMILING JACK" for his cheerful disposition.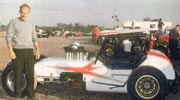 He also raced at Oswego, New York, where he began to dream of a similar racetrack in Ontario. So in 1969 he rebuilt Delaware Speedway near London, Ontario from a quarter mile to a half mile track and ran it as Director until 1975. Delaware is still an active racetrack today.
Smiling Jack started new racing divisions to encourage more young people to experience racing. He started the Rat Race division which allowed safe but low dollar investment, now currently called Street Stockers.
He was also manager of Carling's NASCAR racing team of Earl Ross and the Coca Cola racing team of Earl Ross and Norm Lelliot with their home base in Delaware in a JGL built shop and office on the race track site.
Jack's 2004 Induction into the Canadian Motorsports Hall of Fame: